Free Celtic Folk Songs & Folk Music Downloads
"If you enjoy The Corries, Robert Burns, Ewan MacColl, Christy Moore, The Clancy Brothers's Celtic folk music, you'll love this..."
Do you want some free Celtic songs and folk music downloads? My name is Marc Gunn. I'm an multi-award-winning, rhythm and folk musician who combines Celtic music with sci fi and fantasy themes. Just imagine a jam session with The Clancy Brothers, The Corries, and Weird Al Yankovic, and you'll have the gist. It's Celtic music, the traditional and the twisted.
Here's what you will find on this webpage:
Click here to listen to my music while you read through my website.
Download a full album called Irish Songs for New Orleans. No strings attached.
A link to my podcasts with over 400 hours of Celtic music you can listen to and download for free!
Links to my other websites which offer free Celtic music, Irish song lyrics, Irish songs for cat lovers and LOTS more!
To get started, subscribe below to download another album that features 21 MP3s from my first 20 solo albums
.
GOOD MUSIC, A SENSE OF HUMOR,
AND HELPING OTHERS CAN CHANGE YOUR WORLD!
Submit Your Email, You Get:
-- 21 Celtic Geek MP3s for Free
-- Weekly updates with news, songs, videos, and podcasts
-- Happier life & lots o' inspired fun
Of course, you are always welcome to buy Marc Gunn's music too...
Why Free Celtic Music Downloads?
Free MP3s changed my life in 2000. That's when I started using them to promote my music. My former band, Brobdingnagian Bards, was on MP3.com. We gave away over a million MP3s before they were shut down by the major record labels.
I learned that people want to sample music before they buy it. So I make my music easily available. You can listen to most of my music for free here. I also give away an entire album of songs from my many albums. I even give you permission to use my music via a Creative Commons license.
Do I expect you to buy it? Nope. But I do hope you take the time to listen and sample it to see if it's right for you.
If you love Irish or Scottish songs, if you love Renaissance festivals, if you love sci fi conventions or all things geeky, then you might enjoy my music. You'll hear music ranging from traditional Irish and Scottish folk songs to Celtic-style songs about Firefly, Star Wars, Star Trek, Lord of the Rings, Red Dwarf, Doctor Who and cats.
I want to invite you to subscribe to my mailing list (above). I send out a fun newsletter every couple o'weeks with info about my music and life. I also give away a full album of Celtic and Geek songs.
I am a firm believer that free music downloads help to sell CDs. The record industry disagrees. You can help me prove it true. I have over a dozen free Celtic and folk mp3s that I want you to download right now... for FREE!
Download them. Listen. Enjoy. Smile. Laugh.
Then, if you like some of the music, buy a CD and help stick it to the industry.
In the meantime... Vote for Marc Gunn in the Celtic Top 100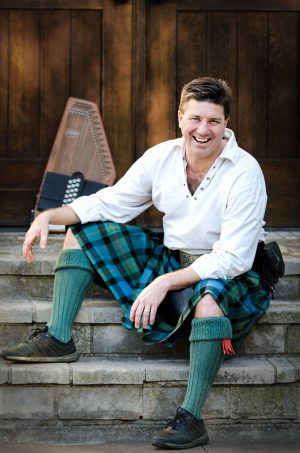 Start Downloading My Free Celtic Folk Songs Right Here
Oh, hey! You can also use my music for your podcasts, videos or other projects. Check out The Rules here.